Physical Therapy – Rock Run Physical Therapy
Are you looking for the best physical therapy clinic in Utah? Rock Run is the #1 physical therapy clinic in the area with the widest variety of therapies offered. Serving our local community, Rock Run specializes in everything from sports injury to post-op therapy. Our goal is to have all of our patients pain-free and back to their normal activities in no time. Available for you, Rock Run is the leading physical therapy clinic in Utah.
No other physical therapy clinic in the area offers as many unique types of therapies as Rock Run. We have pain therapy programs focused on: neck pain, back pain, knee pain, and shoulder pain. Sports injuries and sports therapies are some of our leading services. From runners and cyclists to snowboarders and skiers, our therapists are experienced in treating all types of sports injuries. Our rehabilitation programs focus on total knee and total hip replacements, balance training, and post and pre-operation therapies. In addition to these basic therapy programs, we also offer the following specialty services:
Dry Needling
Laser Therapy
Aquatic Therapy
ASTYM Services
Blood Flow Restriction Therapies
Rock Run – A Community-Focused Utah Physical Therapy Clinic
In addition to healing your injuries, we are also focused on bringing the community together! The Rock Run practice was opened to cater to the needs of our community and those needs go deeper than healing injuries. That is why we have started offering free Community Wellness Workshops. These workshops were designed to educate the community on a variety of subjects regarding wellness and common injuries. Educational, interactive, and entertaining, these workshops have been great at bringing many members of the community together. A great place to meet people who have the same questions and problems as you, there is a Rock Run Wellness Workshop for everyone. Check out the workshops we have available currently and register for free!
At Rock Run, we view physical therapy as a path to wellness. Our goal is to both help you heal and educate you on general wellness so you can avoid pain and injury in the future. Contact us today for a free consultation or to learn more about the services offered by the best Utah physical therapist clinic.
Why should you choose Rock Run Physical Therapy for your physical therapy needs?
Because we think we are the BEST (of course) and we enjoy helping people. But don't take our word for it. Check out our testimonials page and see what other people have said about their experience with us and remember, Rock Run Physical Therapy was the winner of the 2019 and 2020 Standard Examiner "Best Of" readers poll.
If you are shopping around for a physical therapy clinic (which you should!) then here are a few questions you should be asking to make sure you are getting quality, personalized care:
Do you double book patients?
Will a Licensed Physical Therapist or Physical Therapist Assistant be with me during my entire visit?
Do your therapists use hands on manual techniques for all body parts including the low back and spine?
Aquatic Therapy Question: Is your pool for water therapy on-site and is it heated to 92 degrees as recommended by the APTA (American Physical Therapy Association)?
Are your therapists ASTYM Certified?
Do your therapist Dry Needle?
Do you offer Laser Therapy?
Do you offer Diagnostic Ultrasound Imaging?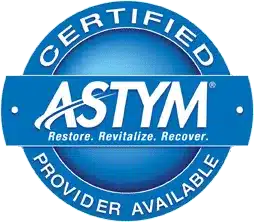 Certified Astym Providers
Unmatched Restorative Results
Rock Run Physical Therapy is committed to offering top-quality care. We have clinicians on staff that underwent the intensive training and education to become Astym-certified.
UTAH'S BEST PHYSICAL THERAPY
Rock Run Physical Therapy offers aware winning physical therapy in Northern Utah. Voted Best Physical Therapy in 2019, 2020, and 2021 by the Standard Examiner. We are proud to serve our patients with three convinient locations in Layton, Roy, and Syracuse, UT. Our team understands that it is our morale obligation to help and serve as many individuals as we can throughout the Wasatch Region. We are here to provide the best physical therapy and recovery to you and your family. Get started today!